Free shipping on all orders within canada and usa
| | |
| --- | --- |
| Single Metal Monitor Armup to 32" Monitors (Silver) | |
Single Metal Monitor Armup to 32″ Monitors (Silver)
Single monitor arm adjusts effortlessly for easy use

Arm extends and retracts, tilt to change reading angles, and rotate from landscape-to-portrait mode; tilt range 70° back and 5° forward

Increases desktop space (desk clamp fits desks between 0.4" up to 2.4"); ergonomic positioning for reduced strain

works with almost any LCD monitor measuring 32 inches or smaller.

Easy to set up.Built to hold monitors up to 25 lbs

VESA compatible (100 x 100mm and 75 x 75mm)
Single monitor arm adjusts effortlessly for easy use

Arm extends and retracts, tilt to change reading angles, and rotate from landscape-to-portrait mode; tilt range 70° back and 5° forward

Increases desktop space (desk clamp fits desks between 0.4" up to 2.4"); ergonomic positioning for reduced strain

works with almost any LCD monitor measuring 32 inches or smaller.

Easy to set up.Built to hold monitors up to 25 lbs

VESA compatible (100 x 100mm and 75 x 75mm)
| | |
| --- | --- |
| Product Category: | Monitor Mount |
| Material: | Full Aluminum, Plastic, Steel |
| Surface Finish: | Powder Coating |
| Color: | Matte Black/Sparkle Sliver |
| Height Adjustable Range: | 140-411mm (5.5-16.2") |
| Fit Screen Size: | 13"-32" |
| Fit Curved Monitor: | Yes |
| Weight Capacity (per screen): | 1.5~6.3kg (3.3lbs~14 lbs) |
| Arm Full Extension: | 468mm(18.4") |
| VESA Compatible: | 75x75mm,100x100mm |
| Tilt Range: | +45°~-45° |
| Swivel Range: | +90°~-90° |
| Screen Rotation: | +180°~-180° |
| Installation: | Grommet, Clamp |
| Quick Release VESA Plate: | Yes |
| Cable Management: | Yes |
Customer Reviews
11/27/2020
Randy

Canada
Decent Arm
I've had a pair of these for 8 months now and thought I'd give it a review. The arms are decent and are able to rotate the monitors vertically. The cable management are held in by plastic covers with plastic tabs which you need to be careful when using (pay attention on how it assembles together and it won't break). There is an adjustment for the weight of the monitor it's holding and so far it hasn't had any issues supporting 27" Dell monitors. I don't own 32's to try it out but there's still some adjustment left to handle the additional weight. The connection of the VESA mounting bracket against the arm does have a little bit of play but nothing big to prevent me from buying this again. Tilt mechanisms work well and can be tightened for heavier monitors. The finish is good and the installation and hardware included is decent as well.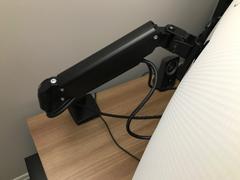 10/03/2020
James

Canada
Excellent
Excellent product
JK
05/12/2020
J K.

Canada
Changed the Specs?
You changed the specs of this mount after I purchased it. It used to be rated up to 8kg, now it's down to 6.4. I wish I had taken a picture of the page before you changed it. I wouldn't have bought it if the specs were out of my monitor's range. Just terrible...
05/11/2020
Akinola O.

Canada
Big disappointment
The manufacturer claim that the stand can hold the monitor horizontally and vertically but this is entirely false. As a matter of fact the product that was delivered to me couldn't hold my monitors properly. I guess the VESA attachment is very slack or faulty. Unsatisfied customer.
04/07/2020
Jean P.

Canada
Great quality at an affordable price point
The quality of this build is genuinely above what I was expecting at this price point and delivery was very prompt making the 'Work From Home' initiative that my company has initiated a very seamless transition. The packaging the unit comes in is very well designed and keeps everything protected during transport which is something to consider if you're not able to pick this up in store due to essential store restrictions at the moment. The unit itself is quite sturdy while still presenting a styling and modern look in the all black finish. Set up was very simple with the quick release option for the monitors, I am very glad I went this option as mounting the monitors otherwise is still doable but is not as user friendly an experience. The built in wire management has been great for keeping things tidy housing a power cable and a hefty display cable with the built in wire management system. I have added a loop of string/twine around the base of each monitor fastening the power cable and DisplayPort cable from each monitor to each arm to act as a strain relief so that the covers do not pop off is the cables are thick and provide a lot of resistance (this might be a unique issue as the previous cables I had were not this thick and would likely provide less resistance against the plastic covers). I have chosen to mount my base using the "C" clamp system and am pleased with how sold the mount feels and there being no play when I adjust the monitors, even at a distance from the base. I am using this with two 22 inch monitors and had no issues adjusting the monitor arms to the screens weight and will shortly be upgrading that to a 28 or 30 inch set up. Overall, very pleased with this purchase and would recommend this to anyone looking for a dual monitor arm set up. Price: 5/5 Set Up: 5/5 Cable Management: 4/5 Delivery: 5/5
02/05/2020
Huston D.

Canada
They're alright
I was actually sent a single monitor arm by mistake. Pulselabz made good by sending me a second single monitor arm. So the set up with two singles is pretty slick. A plastic tab that's part of the cable sheath broke very easily during installation. I don't know how these will hold up over time but they are a good value for the price.