Free shipping on all orders within canada and usa
| | |
| --- | --- |
| Motion Series Dual Motor Triple Segment White Table Frame | |
Motion Series Dual Motor Triple Segment White Table Frame
The Motion Series Dual Motor Height Adjustable Desk is currently one of the industry-leading standing desks on the market. Our desks have an extended height range from as low as 60 cm to as high as 125 cm, making it suitable for many different office settings and uses. Use the MG-4 controller to set your favorite sitting and standing heights, then simply press on the saved setting for your desk to conveniently return to that position.
Loading Capacity: 102 kg (1000 N)
Adjustment Speed: 30 mm/s (dual motors)
Features
The MG-1 digital memory keypad

Displays the height of your Motion Desk
Store 3 predefined heights for your convenience
Steel Frame construction 

The durable and strong frame offers great structural support

Dual Motor

Allows faster ascending and descending elevation for your Motion Desk
More power output when compared to a single motor
This is what allows MotionGrey to offer a three-stage segment Desk frame

Three Stage Segment

A higher range of elevations to choose from when adjusting your Motion Desk
Loading Capacity: Combined total loading capacity of 100 kg (1000N)
* loading capacity for each individual leg is 80kg (800N)
Adjustment Speed: 30mm/s (Dual Motors)
Additional information
| | |
| --- | --- |
| Frame Colour | black, white |
Specification
Motor type: Dual motors
Lifting speed: 35mm/s
Lifting capacity: 80kg (800N)
Noise level: <50A
Height range: 60 ~ 123cm
Length range: 100 ~ 180cm
Frame foot width: 57.5cm
Material: Steel
Colors: Black/White
Outlet voltage:
Shipping dimension (package): 105cm x 26.67 x 22 cm | 31.5kg (41.5in x10.5in x8.69in | 69.4lb)
Assembly level: Medium
Average assembly time: 20 mins
Assembly instructions: Click here for PDF link
Warranty: 1,095 days (3 years)
Customer Reviews
10/22/2020
Jean P.
Canada
Very sturdy. Excellent quality.
Very well build and solid. would definitely recommend to others. Very fast shipping. I do have a suggestion. Perhaps make available a mesh or wire rack underneath so that you can locate all plugs, power bars, etc. under the desk and have only one plug going to an outlet. Makes for a cleaner install.
10/20/2020
Simon N.
CA
Just perfect
I like this sit stand desk. It gets lower and higher than the competition. Displacement is fast and pretty quiet. Sturdy and well made. Love it.
10/14/2020
Zsolt S.
CA
10/11/2020
Carl B.
Canada
Product not as shown
Did not use the product yet. The product received is not like what is shown on the website's pictures. It is not built the same way. The reinforced angle part, between the post top portion and the crossbar is not there. Still trying to find a solution with the support team, but for now, no approriate solution has been found and product on pictures doesn't seem to be available.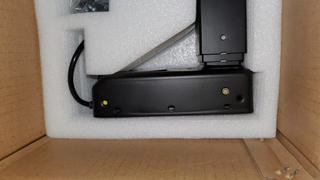 10/01/2020
Christine T.
Canada
Good service, Great product!
It's my second desk. One at the office and another one at home. Would recommend without hesitation! Thanks!
08/26/2020
Nick G.
Canada
MotionGrey 3 segment standing desk
The item once assembled works perfectly fine and looks as expected. You may find following helpful to bring to your attention: 1. The instructions are very confusing and pretty short, the language and decription is more suited for a handy person rather than an average user. 2.The instructions could use bigger text and pictures for clarity by adding 2 to 3 more pages. 3. Some parts included (plastic covers) were included in the package but they were not mentioned nor shown in the instructions, hence it was not clear where and how to use them. 4. Called CSR and asked if there is a video illustration for the product, and I was directed to UpLift company's product video on youtube, although it was helpful but I do not find this as professional
07/21/2020
Darren A.
Canada
Delays on top of delays
The shipping was late, I received the wrong color, and the control box did not work. I was told the replacemeny control box would be shipped Express and instead it was shipped standard and we are therefore still waiting almost another full week. So I am not pleased with my experience 
07/13/2020
Hyun-Joon K.
Canada
Not Bad But Minor Details Can be Improved
After assembly, the table works as intended. Couple of things would make this 5 stars rather than 3 stars. First, the table top came with a chip on the side. I will contact the customer service about this. Second, the poly washer that goes between the metal frame and the wood seemed a bit questionable. Why couldn't they use a bit sturdier washer? In addition, there isn't really a guide hole on the table top. You just force the screw into the table. Tiny guide holes would have been better.