Free shipping on all orders within canada and usa
| | |
| --- | --- |
| Guardian Series Leather Chair(WHITE SHIPS OUT FEB 10) | |
Guardian Series Leather Chair(WHITE SHIPS OUT FEB 10)
The Guardian Series is our signature gaming chair series which offers an array of premium features.
– Steel frame construction
– High-density foam
– 3 directional cushioned armrest
– Height and backrest adjustment
– Tilt tension adjustment
– Included neck and lumbar pillows
Packaging Dimensions: 88x73x38 cm
Weight: 26 kg
Free Shipping within Canada and USA.
Estimated shipping time: 5 to 7 business days
Includes 10 years manufacturer's warranty
Customer Reviews
01/16/2021
Pierre L.

Canada
Exceptional chair, but no customer service
I absolutely love the chair as it meets all of my needs. My only issue from ordering from this company is that they absolutely ignored 2 emails I sent them. I was inquiring about the pricing of the chair that was $50 cheaper on Newegg.ca vs ordering directly from the company to see if they would price match. I would not order again from them simply due to the very poor customer service. Ignoring your clients is very poor business practice.
01/12/2021
Trevor P.

Canada
Good chair at a Good price
got the chair really fast, and came undamaged. the chair feels good, fully reclines, and is pretty much adjustable in every way. Really hope a leather model is made in the future definitely would buy. Cons are based build quality, being a Canadian product was let down by the included phillips screws would have rather had Canadian Robertson screws. The phillips are super easy to strip when assembling the plastic sides and are garbage. The material is good but I find it also very "gripy" wish it was more on the soft cushiony side. With all that said great chair great price happy with my purchase.
01/02/2021
Anastasia K.

Canada
Motion Grey not recommended
I received the item quickly but it the box was dented. The chair turned out to be broken. The cover over the mechanism pn the side was broken in two places. A friend got the chair at the same time and also got it with the exact same part broken. In the reviews others complained of the same thing. I do not recommend this chair.
12/25/2020
Larry M.

Canada
Great chair but missing a piece
Bought 2 chairs. One was very good, the other is missing a cover and an arm is loose. Will call PL on Boxing Day for assistance.
12/14/2020
Milan M.

Canada
Pulselabz guardian is 🔥
If you're on the fence about getting a pulselabz chair, do yourself a favour and pull the trigger. I was having trouble deciding between shelling out the dough and getting a secretlabs, or being a cheap *** and getting some Chinese junk off Amazon. I finally decided on the pulselabz guardian because the price was right in the middle, reviews looked good and they're a local Canadian company based out of Vancouver which I love. And I'm so glad I did. This chair is awesome, quality materials and quality build, stitching is beautiful, and it's extremely comfortable and supportive. Assembly was a lil finicky lining up a couple bolt holes but nothin major, took me prob 30 mins to assemble by myself using the supplied tools. Thank you pulselabz for making quality products at an affordable price. I will definitely be getting another, though I don't see this happening for many years cuz the chair is solid.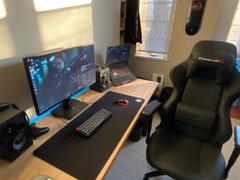 12/13/2020
Brett R.

Canada
Sturdy chair but mixed feelings on build quality and non-existent support
I purchased this chair about a month ago and it came within two days, which is excellent for shipping speed given the issues with COVID. Assembly was challenging as the chair is quite big, but very sturdy with the main parts. This was a great first sign seeing as I'm 6' and wanted a good sized chair. However, I had several issues during assembly, including holes that didn't quite line up when mounting the back chair to the base (though they eventually did with some force), and the plastic covers that didn't line up right with the holes. The worst though is that some of the screws provided for these covers did not fit at all (too big for the plastic side covers). I emailed support the same day and I still have not heard from them. Nonetheless, I've been using the chair and it's quite comfy and sturdy. I very much appreciate the size and how solid it feels, and the back angle adjustment. I also very much appreciate the matte black metal legs and the design with all the great adjustments for the arms and back. One thing is that the main seat cushion does hurt me a bit after a few hours of sitting on it as it's a bit stiff for me (no worse than a leatherette car seat though), and the armrests are too hard for my elbows (so bought some aftermarket memory foam arm covers from Amazon which worked well). As for other issues, unfortunately, I did use the recline function a couple times and noticed a crack/bend on one of the plastic side covers on the back left. I think in general, the plastic side cover pieces are just very cheaply made, though the rest of the chair's metal pieces and seat/back/cushion materials are very solid. Overall, 3/5 stars. A good chair, but has some quality issues with the plastic bits and how things line up (minus one star). I'm still waiting on support to get back to me to send me plastic side covers and screws that fit without issue. Not even an acknowledgment email has been sent... (minus another star).
12/10/2020
Michael V.

Canada
Solid Chair With a Few Issues
The chair is generally very solid and seems to be made well, with one exception. The plastic armrests feel flimsy and one would not lock into place. I sent an email to customer support a week ago and have not received an answer. Disappointing customer service.
HK
12/06/2020
Honami K.

Canada
Broken Parts
The product itself is great quality, but a plastic component of the chair arrived broken. I attempted to contact the company but haven't received a reply yet.