Free shipping on all orders within canada and usa
| | |
| --- | --- |
| Acer Series Leather Chair - BLACK VARIATION | |
Acer Series Leather Chair – BLACK VARIATION
Designed for superior comfort and equipped with unparalleled ergonomic features, the MotionGrey contains extra padding along with a larger headrest that provides extra support and cushioning. The MG-Gaming Series is a great fit for users desiring for more space and padding for their office chair.
Packaging Dimensions: 88x 53×38 cm
Weight: 24 kg
Free Shipping within Canada and USA.
Estimated shipping time: 5 to 7 business days
• The newly designed backrest allows the use of the adjustable and removable lumbar pillow
• Adjustable armrest with a wide range of width and height adjustments (up/down)
• Backrest reclines up to 180°
• Suspension adjustment allows tilt movement
• Durable class 4 gas lift allows height adjustment suited for the user's needs
• High strength steel frame construction
• Environmental friendly polyurethane leather wrapped around the high-density foam
• The 5-star base provides strength and durability
• Armrest relieves prolonged stress on the arms
• PU coated wheel casters allow smooth gliding action on all types of surfaces
• Neck and lumbar pillows provide extra comfort and support for your spine
• Some assembly required; assembly time for 2 adults: 15 minutes
• For best care results, wipe with a damp cloth
Specifications
Customer Reviews
10/25/2020
Nitish T.
Canada
Very happy with product
Delivery was surprisingly quick (2 days for me). Assembly was very easy. Very happy with the chair although the armrests weren't comfortable for extended use of chair. I bought memory foam arm pads for it so that issue was solved. Armrests do feel a little flimsy / wobbly in general but I don't anticipate any issues.
10/25/2020
Colton K.
Canada
Thought it would be more comfortable
There's no padding in parts of the chair there should be and other parts it's not soft enough
10/20/2020
Kent V.
Canada
Pretty Good
Everything is good but I just don't like the hard side of the chair around my shoulders but overall its good
10/20/2020
Ron P.
Canada
Good quality chair but some issues with shipping
After having this chair for just under a week, I can say it a good chair for the money. Very comfortable and the quality is very good. I'm 6'2 and the chair fits me rather well. The seat could be slightly wider if I was being picky. The only issue I had is that ink from the instructions packaged with the seat bled onto the white leather. I haven't been able to successfully remove it.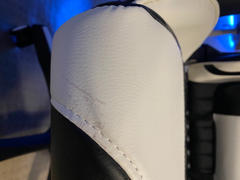 10/15/2020
ERIC G.
Canada
Motion Series Gaming Series - Red
Very good, easy assembly. Comfortable chair.
10/10/2020
Alex
Canada
Squeaky chair
Was good for a couple days, then started squeaking horribly
09/30/2020
Randy L.
Canada
Good char. All that needs to be said
I have only had the chair for a couple of weeks now, but from my experiences it is well built, comfortable, & has a great build quality for the price point. Very adjustable. I'm 6'2 ,and I still have my full head supported if I want to lay back and relax. The leather colour is just as vibrant as the picture and it feels like a premium chair. The only knock I will give this chair is that for me being only 165 lbs. I find the resistance of the tilt slightly too stiff to achieve the almost 180 degree laying position comfortably. However if you are heavier than me then I do not see this being any bit of an issue for you. Great chair, great customer service. Highly recommend
09/27/2020
Junaid A.
Canada
Satisfied with the purchase
I bought this for WFH. I have a problem with posture and lower back pain. Have been using this chair for a week and surprisingly, at present, I am not having any back pain. Great chair I must say.