Free shipping on all orders within canada and usa
| | |
| --- | --- |
| Acer Series Leather Chair | |
Acer Series Leather Chair
Designed for superior comfort and equipped with unparalleled ergonomic features, the MotionGrey contains extra padding along with a larger headrest that provides extra support and cushioning. The MG-Gaming Series is a great fit for users desiring for more space and padding for their office chair.
Packaging Dimensions: 88x 53×38 cm
Weight: 24 kg
Free Shipping within Canada and USA.
Estimated shipping time: 5 to 7 business days
• The newly designed backrest allows the use of the adjustable and removable lumbar pillow
• Adjustable armrest with a wide range of width and height adjustments (up/down)
• Backrest reclines up to 180°
• Suspension adjustment allows tilt movement
• Durable class 4 gas lift allows height adjustment suited for the user's needs
• High strength steel frame construction
• Environmental friendly polyurethane leather wrapped around the high-density foam
• The 5-star base provides strength and durability
• Armrest relieves prolonged stress on the arms
• PU coated wheel casters allow smooth gliding action on all types of surfaces
• Neck and lumbar pillows provide extra comfort and support for your spine
• Some assembly required; assembly time for 2 adults: 15 minutes
• For best care results, wipe with a damp cloth
Specifications
Customer Reviews
03/01/2021
Erik J.

CA
Great chair for a great price.
Easy assembly, very comfortable with all the adjustment features and pillows to help with posture. Quality feel and great addition to the home office!
03/01/2021
Marcel S.

CA
Nothing special
Lumbar support and head rest provide additional comfort to an otherwise uncomfortable chair. Without those cushions, you might as well just buy a bench because it is made for a frame much larger than me (165lbs, 5'8"). The location of where the wheels meet the seat is unbalanced and makes the chair tip forward if I ever try to roll forward. Construction is mediocre: the back has wiggle room after tightening all the screws and the scent of the leather smelled cheap and lasted over a week in my room. Overall experience is average. Would recommend trying out other chairs before settling for this one.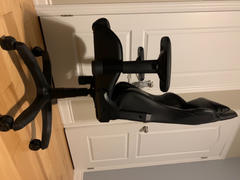 02/14/2021
Edward B.

CA
Gaming chair
Early days of using but is about what I had expected.
02/04/2021
Patrick B.

CA
Fast shippîng from BC to Québec
Wow fast shipping, received the same week. Easy to assemble. Good quality bolts (allen key included). Looks good. Cannot comment on durability yet but everything works.
02/02/2021
Jennifer H.

CA
Awesome chair
So good!! Very easy to put together! The only problem is that the chair smells horrible...we've had it for a week now and it still smells very bad...
02/02/2021
Alexandre S.

CA
Loud chair
The chair overall is ok. When I sit, the chair make a lot of squeaky noise
01/31/2021
Benoit M.

CA
Unfortunately 2 stars - chair not comfortable and beware return fees!
I initially was disappointed by the fact that the chairs spring ( for reclining) doesn't unscrew enough so it hardly reclines! I know there is the arm but I'm talking about swinging back! I had purchased the extra roller blade type wheels which is pretty cool! After two weeks i find this chair not comfortable I needed to add an extra pillow for my bottom, because after a whole day on the chair there seems to be lacking padding and the metal frame applies pressure on the side of my stomach ( I am 5'10, 210lbs) so not over weight but the top sides of the chair are very annoying! But the main reason for the 2 stars is I initially saw this chair on the BestBuy website and it gave the information sold by a Canadian company! So googled it and it was true was able to order directly from the company so to encourage this company did the online order! Now that I'm not totally satisfied, I look up the company's return polices! BAM SURPRISE! 5 to 10% restocking fee and the returning of the chair is the clients responsibility so another minimum 60$! So if I would have bought from BestBuy I wouldn't be stuck in a Jam and would have been able to bring this chair back no issue and purchase maybe from the same Brand but with more padding ( in this time of Pandamic) it is hard to shop around for these things to go try the chairs ! So you look for a deal and you pray that the reviews are correct! Next time I'll buy on line Sorry but it'll be through the big chains like BestBuy or Amazon!!!!
01/26/2021
Henrique G.

CA
Gaming chair
The chair is very comfortable and very easy to assemble. The only problem is that the leather has a very strong smell and don't go out easily. It needs a few days under the sun to remove the smell... And during the winter this is not possible.